You currently are browsing our new online store! You can still access the old store at shop.duxtel.com.au. Please if you find any bugs!
5SECM90: 5GHz 90 degree MiMo Sector Antenna
RF elements MiMo Sector Antennas demonstrate new standard in compatibility, price/performance, ease of use and environmental resistance.
Designed for use with RF Elements StationBox enclosures to suit RB912 series RouterBoard for a low cost base station installation that is easy to install and low visual impact.
2x2 MiMo Technology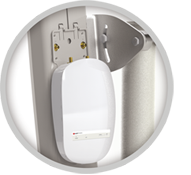 This Base Station Sector model features 2x2 MiMo (Dual Polarization H and V) in 5GHz band with 16-18dBi Gain. Check Product Datasheet for Models and Technical Specifications.
5SECM90: 5GHz 90 degree MiMo Sector Antenna
Pricing
| Qty | 1 |
| --- | --- |
| Inc. | $99.00 |
| Ex. | $90.00 |
Stock
| | |
| --- | --- |
| Availability: | In Stock Now! |
Log into your account to see more info regarding current and expected stock levels!
What does this info mean?