You currently are browsing our new online store! You can still access the old store at shop.duxtel.com.au. Please if you find any bugs!
SXT SA5 ac
RBSXTG-5HPacD-SA: Now with 802.11ac support for up to 540 Mbit actual throughput  

Upgrade to 802.3af PoE for just a few dollars more!
The new AC standard is here, with up to 866Mbit over the air datarate, 256-QAM modulation, and 80MHz channels. 802.11ac opens up new possibilities and speeds never possible before.
The SXT ac is a new member in our 802.11ac product lineup, currently two models are available — with regular 28 degree antenna, and the SA model with a 90 wide beam-width sector antenna. Also supports 802.11a/n mode and is compatible with all legacy RouterBOARD devices, including Nstream and Nv2 protocols.
New products are backwards compatible- for example, you can replace your 5GHz 802.11an legacy Access Point with new 802.11ac product and your existing customers will still be able to connect to it.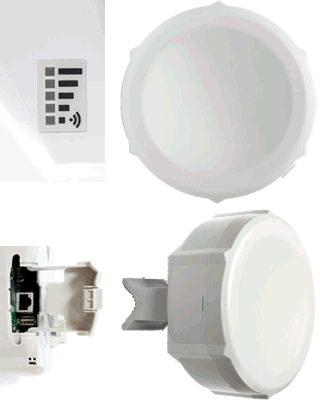 Features:
- 1300mW RF output
- extended temperature range -30C to +80C
- up to 540Mbps real throughput
- low latency Point to Point
- Solid all-in-one design: quick and easy to mount
- Tower friendly one hand enclosure access
- 5GHz 802.11a/n/ac wireless onboard
- One 10/100/1000 Ethernet port
- 16dBi dual chain antenna built-in
- Signal strength LED indicators on back
- USB 2.0 port, voltage and temperature monitors
- Extended L2MTU support to avoid fragmentation overhead in MPLS, QinQ etc.
Product specifications:
Details
Product code
RBSXTG-5HPacD
CPU
QCA9557 720MHz CPU
Memory
128MB DDR2
Ethernet
1x 10/100/1000
Wireless
Onboard dual chain 5GHz 802.11ac
QCA9882 wireless module;10kV ESD
protection on each RF port
Supported Channel Widths
20/40/80MHz
Supported Modes
CPE, Point to Point, Point to Multipoint
Extras
Reset switch, beeper, USB 2.0 port,
voltage and temperature monitors
LEDs
Power LED, Ethernet LED,
5 wireless signal LED
Power
Power over Ethernet: 8-30V DC
Packaged with 24V DC 0.8A power
adapter and passive PoE injector
Dimensions
140x140x56mm. Weight without
packaging, adapters and cables: 265g
Max Power Consumption
12W
Operating Temp
-30C .. +80C
OS
MikroTik RouterOS, Level4 license
Wireless specifications:
TX Power/RX Sensitivity
TX/RX at MCS0
32dBm / -96dBm
TX/RX at MCS7
29dBm / -77dBm
 TX/RX at MCS9
22dBm / -72dBm
TX/RX at 6Mbit

31dBm / -96dBm

TX/RX at 54Mbit
30dBm / -81dBm
Antenna
Dual pol. 90° 5GHz antenna,
13dBi, -35 dB port to port isolation
SXTGac Options:

For additional flexibility, we are able to offer different power supply options:
Standard (default): Ships with an Australian format 19Watt 24V MEPSIV compliant switch mode plug pack PSU and PoEL passive PoE injector
802.3af Upgrade: For just a few dollars extra, substitute standard PSU and PoE Injector a MikroTik PoE Converter
Make your option selections below!
You might also consider the NanoBracket: swivel mounting kit for RB/SXT
General
Name
SXT SA5 ac
Certification
CE, FCC, IC, EAC, ROHS
FAN count
Passive
IP
IP54
MTBF
Approximately 200'000 hours at 25C
Tested ambient temperature
-40°C to 70°C
Can be used outdoors
Yes
Interfaces
10/100/1000 Ethernet ports
1
OS
Operating System
RouterOS
RouterOS license
4
CPU
Architecture
MIPSBE
CPU
QCA9557
CPU core count
1
CPU nominal frequency
720 MHz
Board
Size of RAM
128 MB
Storage size
128 MB
Storage type
NAND
PCB temperature monitor
Yes
Voltage Monitor
Yes
Powering
Max power consumption
12 W
Number of DC inputs
1
Supported Voltage
15-60V
PoE
PoE in
802.3af/at
PoE in input Voltage
12-57 V
USB
Max USB current (A)
1
Number of USB ports
1
USB Power Reset
Yes
USB slot type
USB type A
Wireless
802.11n
Yes
Antenna gain
14
TX power

5 GHz
TX
RX
6MBit/s
31
-96
54MBit/s
28
-81
MCS0
30
-96
MCS7
27
-77
MCS9
22
-72

Wi-Fi generation
Wi-Fi 5
Wireless 1 Max data rate
867 Mbit/s
Wireless 1 Number of chains
2
Wireless 1 band
5 GHz
Wireless 1 generation
Wi-Fi 5
Wireless chip model
QCA9892
Wireless standards
802.11a/n/ac
802.11a
Yes
AC speed
AC900
SXT SA5 ac
Brand: Mikrotik
Product Code: RBSXTG-5HPacD-SA
Pricing
| Qty | 1 | 5 | 10 | 20 |
| --- | --- | --- | --- | --- |
| Inc. | $174.00 | $156.60 | $151.38 | $146.16 |
| Ex. | $158.18 | $142.36 | $137.62 | $132.87 |
Stock
| | |
| --- | --- |
| Availability: | In Stock Now! |
Log into your account to see more info regarding current and expected stock levels!
What does this info mean?