MimosaB5c: 5GHz 1.5Gbps backhaul connectorized radio

Extreme Customization and Reliability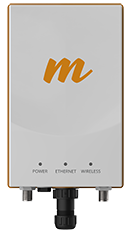 The Mimosa B5c is the industry's fastest connectorized unlicensed and public safety connectivity solution, allowing virtually any antenna to be used for long distance Point to Point backhaul.
The Mimosa B5c is ideal for long range relay and tower links and custom engineered collocation applications.
Monitor with Ease
Assessing link health and identifying potential problems has never been easier. Links are instantly monitored by our Mimosa Cloud service with rich data collection and analysis.
Ultra Rugged
Carrier-grade IP67 design allows the B5 to withstand the harshest of environmental conditions.
Easily Add New Links
The B5c is spectrum friendly. Unique high precision GPS Sync technology reuses the same channel network wide. Keep adding more capacity to more sites and waste less spectrum.
Double Reliability
Tames unlicensed spectrum interference via custom engineered multi-channel and auto-everything technology. As good as two smart links in one radio 
Product specifications and features
Max Throughput
 Up to 1.5 Gbps IP aggregate UL/DL (1.7 Gbps PHY)
Low Latency
 Configurable to 5ms+
Wireless Protocols
 TDMA, TDMA-FD, AUTO TDMA
MIMO & Modulation
 4x4:4 MIMO OFDM up to 256QAM
Bandwidth
 Single or Dual 20/40/80 MHz channels
Frequency Range
 34900 - 6200 MHz (restricted by country of operation)
Max Output Power
 30 dBm (2-stream) 27 dBm (4-stream)
Max Power Consumption
 20W
System Power Method
 48 V DC 802.3 at compliant power injectors
Lightning & ESD Protection
 6 kV
Dimensions

 Height: 267 mm
 Width: 158 mm
 Depth: 74mm

 Weight: 1.6kg

Enclosure

 Outdoor UV stabilized plastic
  Aluminium mounting panel

Wind Survivability
 200 km/h
Wind Loading
 9.89 kg @ 160 km/h
Mounting
 Dual standard pole straps for 30 mm to 90 mm
              
Outdoor Ingress Rating
 IP67
Operating Environment
 Temperature: -40°C to +55°C
 Humidity: 5 to 100% condensing
 Altitude: 4420 m (14500') maximum
 
CPU

 Temperature: -40°C to +55°C


 Humidity: 5 to 100% condensing
 Altitude: 4420 m (14500') maximum
 Shock & Vibration: ETS 300-019-2-4 class 4M5
Ethernet Port
 10/100/1000-BASE-T
Wireless

2 independent dual-stream radios operating on non-contiguous frequencies. Automatic load balancing of traffic across 4 total MIMO streams with individual stream encoding up to 256 QAM

 Mimosa B5c datasheet
MimosaB5c: 5GHz 1.5Gbps backhaul connectorized radio
Brand: Mimosa
Product Code: MimosaB5c
Pricing
| Qty | 1 | 5 | 10 | 20 |
| --- | --- | --- | --- | --- |
| Inc. | $990.00 | $900.90 | $891.00 | $871.51 |
| Ex. | $900.00 | $819.00 | $810.00 | $792.28 |
| | |
| --- | --- |
| Availability: | No/Low Stock! |
Log into your account to see more info regarding current and expected stock levels!
What does this info mean?
Related Products
Tags: MimosaB5c